Adampalooza 2016 & CD Release party
Adampalooza is Upsuck's annual fan appreciation party, and 2016's version will be on Saturday, August 13! This year's event will feature performances by Upsuck as well as Arizona Hall of Fame inductee Hans Olson!  We will have the requisite double kegs pouring local beer all night long, and come hungry as DGP Gourmet food truck will be ON SITE during the show!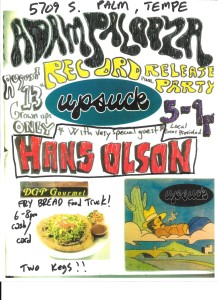 There is no upcoming event in current date to show.